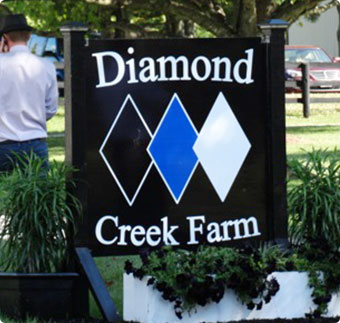 "My grandfather installed in me that there was no such thing as luck. He said, 'luck is where hard work meets opportunity.'  I have worked hard to bring the farm along since its infancy and to be trusted now with many of the sport's young stars, I couldn't be more humbled." -Adam Bowden, General Manager & Owner 
Diamond Creek Farm began as a vision to create a breeding operation that focuses on influential bloodlines and producing only quality horses for the sale ring and the racetrack. True to our vision, Diamond Creek Farm has firmly established itself by producing champions and standing high-caliber, sought-after stallions.
At Diamond Creek, we strive to provide each breeder with exceptional service, and we are here to guide you through every step of the breeding process.  With the excellent lineup of studs in our stallion barn and loyal support from you, the breeder, Diamond Creek continues to be "A Cut Above."
Our Team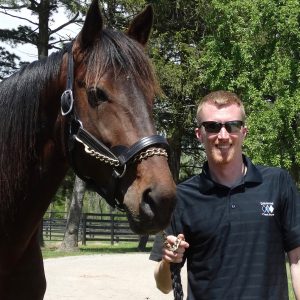 Adam Bowden
- Owner/President
859.707.5987
Adam Bowden established Diamond Creek Farm in 2005 at the age of 24. He was exposed to horse racing by his father and grandfather who owned a few race horses when Adam was young, giving him the bug for the sport. That bug never went away.
Shortly after college graduation Adam headed south to pursue a career in the horse industry. He began by attending horseshoeing school and worked as a farrier before getting the courage to go out on his own. The business began in Kentucky in the fall of 2005 but in 2012 added Diamond Creek Farm of Pennsylvania in Wellsville, PA. The Pennsylvania farm houses a top-of-the-line stallion operation and stands six top tiered stallions including world record holder, Always B Miki. With an on-site vet and experienced stallion handlers, Diamond Creek Farm has quickly become a leading breeder in the Standardbred business.
Adam resides in Kentucky with his wife, Lindsay and their three children Finley, Grace, and Roman. He stays active by competing in triathlons including Ironmans. He maintains some semblance of balance by his recent expansion into the Thoroughbred market where he maintains a small broodmare band here in Kentucky and overseas in Ireland.