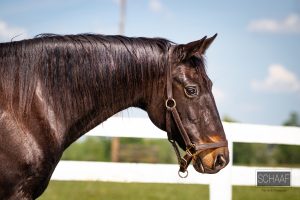 Can Du River (1991 , P, 4, 1:53.4S $101,665)
Cam Fella – Keystone Chick – Albatross 
The matriarch of a hugely productive family, Can Du River alone has produced 5 quarter million dollar earners and waited until her 12th and final foal to produce her fastest one (Class Six, $274,641; 1:49.4). Not a slouch by any means, she produced 12 foals over a 14 year period and was able to be successful with Abercrombie and No Nukes line stallions. The daughter of Cam Fella began her breeding career at Allamerican and during a dispersal in the fall of 2005, we were lucky enough to acquire her. Today she remains one of Diamond Creek's all time favorite horses.
Can Du River was always a great mother to her lucky foals. She became known for trying to steal the other mare's foals while waiting for her own to arrive. One time she even broke out of her stall guard and wandered down the aisle to watch another mare foaling.
After retirement, she was sent to Pennsylvania in the hopes of becoming A Rocknroll Dance and Sweet Lou's new girlfriend. Although the boys liked her very much, she did not approve of them or their manners, and she went back to Kentucky to spend the days in retired bliss.
Can Du River was coined with the name, The Grouch, not long after her arrival to the farm. An older mare when Diamond Creek purchased her, she was stuck in her ways and wanted things done in a certain manner. For unsuspecting visitors, a look in her direction causes her ears to lay flat against her head and she follows that with aggressive posturing. It is all for naught. She is a complete blowhard and it is all a ruse. She is the most gentle, sweet, and patient mare when you give her what she wants: a big bag of carrots.