Breeding season officially kicks off next week, so we wanted to take the time to welcome our 2018 interns.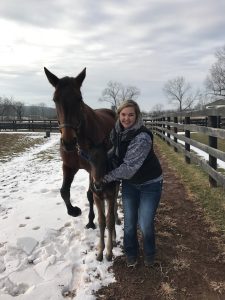 Taylor Johnston joins us from Westerville, Ohio.  She grew up on the racing side of the industry, having been around many different racetracks.  Taylor started grooming racehorses at 16 at Scioto Downs and got her first grooming win in 2011 with Starry Night Star.
Taylor hopes to manage a breeding farm one day and is most looking forward to,"The breeding shed opening and learning about all the ins and outs of the breeding side of Diamond Creek while learning the stallion's personalities."
Taylor has two bischon-cock-a-poos named Coco & Stanley.  If she ever won the lottery she would buy a 2-year-old trotting colt sired by Chapter Seven.  One thing on her bucket list? Being able to drive in a fair or parimutuel harness racing race.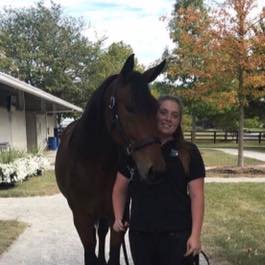 Meg Cartledge started with Diamond Creek during yearling prep and sales.   She came to Diamond Creek from Bedfordshire, England on her placement year for her Bioveterinary Science degree at Harper Adams University.
What does Meg like about the farm? "The foals, HHYF trottingbreds, getting to know each horse on an individual basis and their unique personalities, and the transformation of a yearling through prep."
Back home in England, Meg has a black lab named Deller, and a Welsh Sec D x Thoroughbred, George.
Amelia Nielsen comes from Hamilton, New Jersey.  She became involved with Standardbreds while studying Equine Science at Delaware Valley University.
Amelia is most anticipating helping with foaling while at Diamond Creek.
She would like to cross sky diving off her bucket list and at home has four dogs and a parakeet.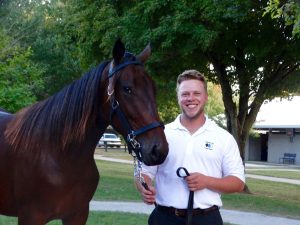 Riley Guerin is the second of the yearling prep interns.  He comes from Ivyland, Pennyslvania.  Riley also went to Delaware Valley, where he first worked with Standardbreds.
Riley came to Diamond Creek for the internship to, "Work with those who have a large amount of experience as well as plenty to teach about the harness racing industry."
Riley's secret talent is playing the guitar.  He also wants to skydive, but specifically over the Palm Islands in Dubai.  The one thing he couldn't live without? A good pair of boots.