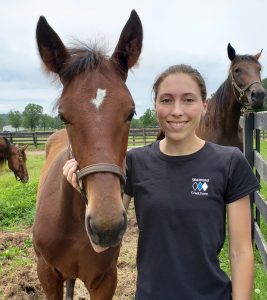 This month's Meet The Staff introduces another new staff member, Sam Herrington.
Sam joined us in the office in April where she has jumped into the breeding season feet first.
Sam is local to York County, growing up in Seven Valleys, PA.
Sam enjoys being someone who is "behind the scenes" at a breeding farm. Her favorite part of the job is getting to know and work with the clients as well as learning how big of an impact Harness Racing has on the equine industry.
Sam particularly likes when clients share how happy they are with their foals and send in pictures of them, so please keep sending them!
Sam came from a Quarter Horse background, so she knew very little about the Standardbred breed growing up. In college, she worked at a Standardbred breeding farm over summer breaks. Since then she has gained an appreciation for the breed and the sport as a whole.
"I am learning more about the bloodlines and accomplishments our stallions at Diamond Creek have made," said Sam, " For the most part I have Diamond Creek to thank for everything I know and have learned about Standardbreds this far."
Her typical day starts with taking semen/breed orders for the day, organizing the logistics for the orders, a visit to the breeding shed to help pack boxes, and then other office duties for the rest of the day, such as billing, sending and accepting contracts, and answering general customer service inquiries.
"Every day is a little different," said Sam, "But never dull! I get to assist and talk to many of our clients on a daily basis."
Sam has 2 horses, Chance and Quill, a dog, Nelly, and a cat, Chloe.
Her bucket list includes learning sign language and visiting the Grand Canyon. She loves cake batter ice cream, and her secret talent? Napping anytime during the day and still sleeping at night!